Still Big Fans' Supports
James Wattana or by a local name as Tong Sit choi, confessed after ending the last 48 round of this year Thailand Master, which was held at Merchat Court Hotel in Bangkok, Thailand, that he couldn't concentrate on games even an easy shot that he if in the past would make it at ease, but now, seems to be his problem. He said this match would be his another immemorable match that he would like to forget it as soon as he can.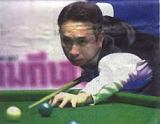 After losing 4-5 to Micheal Dunn even though the first session lead at 3-1, Wattana's aspiring to stay in top 32 after ending this season would be rest on the last two tournaments, which is the Regal ??? and the Embassy World Championship. Will he be able to reach this year semi final of the Embassy Worlds as he had done in the past which helped him stay in the first 16 in that year? Umm, I don't want to think about it, but I know there are a lot of his fans who still admire Wattana as an Asian snooker player star want him to make it through. There are more news about James is planning to shift into coaching career which is one of his future plan... I really have no idea about this.
Finally, before get going, I as a webmaster of this site, would like to thank you guys who have visited here, I am really having no time to keep this page run smoothly due to the lack of information to put on even the pics you see, I scanned from local newspapers. But, please at least coming back and post some messages in webboard to give James a support [28 Mar 2001]
---
WOrld of Winner, not Loser

Thai Tornado James Wattana is planning to quit his professional in the next five years. According to the news, James admitted about his downturn for the last three years. After losing the first five ranking tournaments of this seson and currently unofficial stands at the world number 33, he wishes his top form coming back in the last three tournaments.

He revealed to the source that his life now is becoming tougher and tougher...Those club owners in England who once let him praticing eight hour a day for free, now turn to charge him ( his three hour daily practice) . James who is 30 yrs old now, realized about his future and really desperate about his performance in the 2000 season. What he's thinking is trying to save as much as money prize that he could earn in the next five years..before quiting.
---
David Gray: the Big Obstacle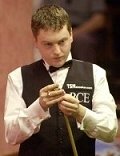 David Gray...Today this name becomes James's really big obstacle. Current Tournament which is UK tournament... Wattana was defeated another time with the score 6-9 frames despite his lead in the first session 5-3 frames.

Will Wattana , who currently drops to the world number 27, stay in top 32 at the end of this season? This question is hardly for us, I guess even James himself, to answer. The remaining tournament would be decisive factor... However, the next ranking tournament which is China Open is another time that James's dream is taken away by David Gray. This time David Gray almost whitewashed James, the match score is 5-1 frames
---
Very Close But Yet Too Far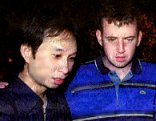 Wattana could not pass the last 32 round of this season first ranking British Open 2000, defeated 4-5 by the world number one Mark J. William. Even though in this match James still had deep confidence after stealing victory from Andrew Higginson 5- 4 in the previous round, Wattana started the match by leading Marks 2 frames which gave him such a nice stand. However such a nice feeling for James Fan would not be for long when the next four frames were taken by Mark . If James wanted to win the match, he would have gained the whole remaining 3 frames... James fought back as once he was in the top and got the next 2 frames, leveling at 4-4. Mark J. William who is named "Simply Missile" used his accurate pot to get the frame and won the match.. He will meet either Marco Fu or Mark King in the last 16 round.

Match score: (The first score is Mark) (37-76, 49-72, 70-1, 78-59 (55), 58-28, 62-17, 57-59, 18-52, 75-34)
---
2000 Season

Wow...It's been long time for the season break...and now it's begining again... I need to apologize for all of you who come to this site and would not see any movement in this website.. for long.. .Damnn.. I don't want to make any excuse, but please believe me having a website which needs update task is time consuming... Especially, I don't have any connection with James...In other words, neither James nor I do know each other...in person...What I know about James is what I hear, see and, read from media.. So it takes time for me to gather the news and even to find an up- to- date of his picture to put on.. If you want to support me with any kind of source, please do not hesitate to write me.

This Season, if I recall correctly, James did not qualify for China and Regal Welsh 2001 Tournament. He seriously lost to the same Guy David Gray in both tournaments with the macth score 5-1 and 5-3 frames, respectively. But we have a replacement, Noppadon, the Micky, can make it in the qualifying round by beating Jimmy White 5-3, booking a place in the main draw of Regal Welsh 2001. Should we give him a hand. By the way, He will meet Chris Small.

About our James, now he is in the British 2000 and he make it this time by beating Andrew Higginson 5-4.. very on the line. The next round he will meet the world champion and the number one of the world...Mark J William on October 3, 2000. Should I say Cheessse!!!!