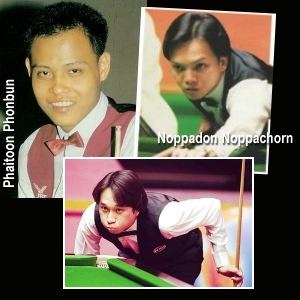 All three losses in UK 1999, we have three Thai snooker players in this tournament, giving me a hope that any of them might get through the deep round. Start with Noppadon Noppajorn, Mighty Atom... defeated at the first round of this tournament by Stuart Pettman 3-6 frame while Phaitoon Phonbun or "Tualek" got through the second round by beating Richard King 6-2...

And even giving me more confident that either Thai...would get through at least the last 16 while Tualek beaten Dave Finbow 6-5 frame in the second round...
So at the third round or last 64, we had two Thais in this round, Tualek met the world number 12 Paul Hunter while James met the world number 83 Wayne Brown , who just beaten James in the 1999 B&H Master that just passed, I am scared that James would fail again to Brown because in the B&H, James loss to Brown was kind of nightmare...leading Brown 4-2 and losting 4-5 frame and I am not sure whether James already woke up from that nighmare yet... Actually, James used to meet Wayne Brown once in Thailand Master 1995, at that time James beaten Brown at the first round..

And all my hope was being far away from true when Tualek lost 6-9 to Hunter in the third round. Just wishing only my remaining hope that James could pass Brownie this time otherwise; his ranking would be in danger because the UK is the third ranking and we ain't sure that James would be doing superb in the rest.
At the first 8 frame session of the match between James and Brown, James was behind 3-5. However, in the last 9 frame session, James got a chance to lead 6-5 by winning 3 continuous frames but Brown, who didn't like to be behind, leveled at 6-6 before tea time. And after coming back, James did nothing unless letting Brown to get all three continous frame which meant James's quick end in UK 99